SPICER TWINS TURNING HEADS ON THE GOLF COURSE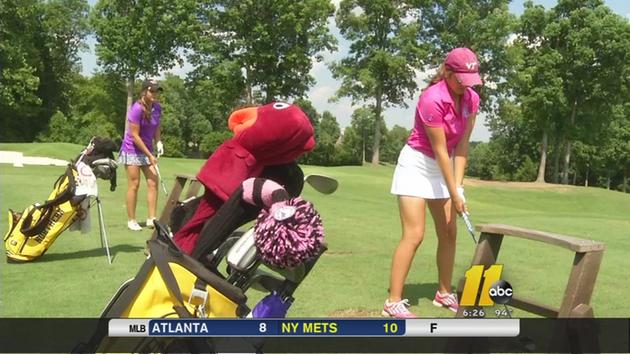 DURHAM (WTVD) —
Sarah Spicer finished this year's North Carolina Women's Amateur with one of the biggest eagles of her career.
It came on the 18th hole in the final round of play and helped the rising high school senior cap off her first tournament win in quite some time.
"I've won some smaller tournaments, but this was the first pretty big tournament I've won – with multiple days that I had to kind of hold the lead, sleep on the lead – in about three years, so that was definitely a big confidence booster for me," Spicer said.
It was one of the first non-junior events against older competition that she's played in, but the challenge brought out a youthful edge for the teen golfer.
"It was actually a unique tournament," she said. "You had older ladies and a lot of people in college. There were a few people in high school playing, so it was a neat experience."
"I kind of thrived in that environment, kind of the chance to get to show off a little bit, and you know it's fun to sort of be considered younger, especially now I'm gonna be a senior in high school," she said. "I felt kind of old for a while, so it was interesting to feel like sort of the young gun out there."
The Spicer flair on the golf course comes not once, but twice. Sarah's twin sister, Jessica, also excels in the sport and finished tied for 11th at Porters Neck Country Club, and while the duo are a tough challenge for their competition, they're used to going head-to-head against each other on the golf course.
"I think the hardest part for me is, you know, we're so competitive with each other," Jessica said. "We always want to beat each other, and it's tough to lose, but obviously I'm happy for her to see her win."
The twin sisters picked up the game of golf at age 7 and decided to make it their priority over synchronized skating before starting high school, and now they continue to keep fans talking by playing on the boys' golf team at Northern Durham high school.
"I think that's been a good experience for us, playing a little bit longer tees, and it's kind of forcing us to get a little bit longer, really work on our short games and just kind of step up our games," Sarah said. "We really had fun with it. We had a great team this year."
Both girls earned All-Conference accolades during this year's golf season, and Sarah won the Durham County High School Invitational in April while clearing her male competition.
"I think guys on the other teams sometimes don't take it quite as well," she said. "Obviously, you know, the guys on our team are very supportive, and they want us to play well, but I don't think they'd like to admit it, but I think it gets in their heads a little bit."
The sisters have already committed to Virginia Tech to play Division I golf together, but have plans of separating a bit in Blacksburg.
"We actually decided we're not going to room together, at least that's the plan," Jessica said. "We just don't want to get too tired of each other."
Both girls also hope to play professional golf in the future, but for now they want to use their last high school season before college as a spring board to more success.
"I think we're going to try to start playing in some more women's stuff, as opposed to juniors," Sarah said. "I think we're going to try to play in the Women's North & South, that's gonna be a lot of fun, in the summer Pinehurst No.2, but I think we're just going to try to stick to the tournaments that we really have a lot of fun with."