Congratulations Griff!!!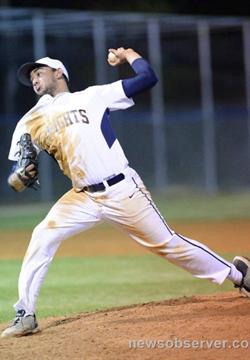 Apr 26, 2018
DALLAS, TEXAS – Griffin Baker has been named the National Pitcher of the Week by the National Collegiate Baseball Writers Association announced today. Baker is the first Conference Carolinas Player to earn the national player of the week recognition by the NCBWA this year.
Baker tossed the first no-hitter for Belmont Abbey since 2014 when he blanked the Erskine Flying Fleet Saturday, April 21 at Abbey Yard. The sophomore from Durham, N.C. struck out seven as he faced the minimum number of batters in the contest with his one walk ending in a double play.
Baker is 4-1 on the year in his eight starts for the 36-10 Crusaders. He as collected 33 strikeouts in his 40 innings pitched.